Every region of the world has unique and amazing foods to try.
My hometown is no exception, although a few of them are so regional people outside this area have never heard of them.
One of them is Goetta, pronounced get-uh.
It is a German inspired dish popular in my hometown of Cincinnati, Ohio, USA.
How popular?
Popular enough to have its own festival called…wait for it…
Goetta is similar to scrapple and mush that were created to stretch meat budgets according to Wikipedia.
What is in Goetta?
Although recipes differ, most include ground meat and pin head or steel cut oats.
In addition, there is a liquid, usually water to cook the oats.
Most recipes include onion and bay leaf, and then there are the secret ingredients.
Because so many recipes are secret family goetta recipes, it's difficult to get more than a generic recipe from those who make it well.
I had more than a few moments of deep breathing writing my recipe because we spent several years playing with it to make it "perfect".
The thing is that perfect goetta is different for different people.
Some people love spicy goetta.
Others love it in multiple recipes.
Some only have it thinly sliced and fried crisp.
Some like it thicker and smothered in ketchup.
I look at the latter and shake my head as they ruin a perfectly good food.
Seriously, ask my family.
It's a good thing they're all so cute.
No matter what way you like it, goetta is as iconic to Cincinnati Breakfast (and other meals) as Cincinnati Chili is.
If you've never had it, I have two recipes you can try.
The first is The best Cincinnati Crock Pot Goetta Recipe.
It's the recipe we took years to develop, and we're quite proud of it.
It takes several hours to make, but it is worth the wait.
The other recipe is Quick, Easy and Delicious Instant Pot Goetta.
This recipe is an adaptation of the slow cooker recipe that you can make in about an hour.
Some people prefer the slow cooker method, but I love a recipe that cuts the cooking time by 75%.
How about you?
Other regional Cincinnati Food Favorites
Another regional beloved food is Cincinnati Chili.
It's more widely known, but also more controversial.
Debates rage on about whether it's even chili because it has cinnamon and chocolate in it, but it's not sweet.
It's spicy and so very different from Texas style chili and was developed by local Greek restaurant owners.
While Empress chili was the local restaurant who historically developed Cincinnati chili, Skyline is currently the reigning king of this Greek delight, although many are loyal to Gold Star or their local Chili Parlor, as we call them in these parts.
The traditional way to eat Cincinnati chili is over spaghetti, although some weirdos like me love it plain, without the pasta.
You can eat it as a 3 way with chili, spaghetti and cheese, a four way by adding onions, a four way bean by adding, you guessed it, beans, and a five way with both beans and onions.
There are other ways to order it in local restaurants, but the focus here will be using the chili in other dishes.
While I usually share pictures of the cooking process with my recipes, I'm mostly sharing the finished product here.
Some dishes have recipes from other local bloggers.
Some are mine, but all of them are delicious.
Try them and let me know what you think.
And if you want a more in depth recipe, send me an email at whatsup@movingtowardbetter.com and I'll make one for you.
Otherwise, enjoy the yum!
10 Cincinnati food favorites
1. Goetta grilled cheese
Who doesn't love a good grilled cheese?
What makes this better is a lovely slice of goetta that has been fried crisp before becoming part of this ooey, gooey, delicious sandwich.
If you really want to make it Cincinnati proud, add some Grippo's BBQ Chips.
They're not like your regular barbecue chips.
They're spicy without being sweet, and they add a definite zip to any meal.
2. Goetta sliders
While these are similar to the grilled cheese, the ketchup and the bun give it a different taste.
In fact, when I tried it, I thought it tasted a little like a White Castle cheeseburger.
I know some people don't like White Castle's, but I have loved their cheeseburgers since I was a child, so this was a wonderfully nostalgic moment for me.
Try it and see what your think.
3. Goetta breakfast casserole
This is one of those recipes that so many families have, and most will not give them up.
Fortunately, Melissa and Shelley at Stockpiling Moms were gracious enough to share this one.
I'm in love with it because it has sausage gravy with compliments goetta beautifully.
You could also substitute tater tots or frozen hash browns for the biscuits if that's your thing.
The best part is that you can assemble the dish the night before and just pop it in your oven the day you want to make it.
Yay and Yum!
4. Goetta hash
This is a simpler version of the breakfast casserole that you can cook on the stove top in your favorite cast iron skillet
You simply cook one pound of goetta and one pound of hash browns.
When that is done, make a clear space in the middle of the pan, whisk together four eggs and pour into the hole.
Allow the eggs to cook for one minute, stirring gently.
Mix the eggs into the goetta.
Sprinkle one half to one cup of cheese on the top and enjoy.
You can also add onions, peppers or mushrooms to personalize the dish to you taste.
5. Goetta shepherd's pie
If you've eaten Shepherd's pie and goetta, you know that goetta is made for this dish.
It actually cuts the cooking time because the meat and oats are already cooked.
You merely have to cook the goetta until it's warm, add 4 tablespoons of ketchup, one teaspoon of cumin, 1/4 teaspoon nutmeg, and 8 ounces of sour cream or plain Greek yogurt and mix well.
Spoon warmed up mashed potatoes over the warmed up goetta mixture and spread evenly, top with cheddar cheese and bake in a 375F/190C until the cheese is warm and bubbly.
Make this in a cast iron skillet and you can go directly from cook top to the oven.
6. Goetta queso
This dish is so yummy and cheesy, and there are two ways to make it.
The first is a stove top version.
Cook 1 pound of goetta until crispy.
Add 1 can of tomatoes with green chilies and mix well.
Measure 3/4 cup of milk and add 1/4 to the pan.
Cut 1 pound of yellow processed cheese and 10 ounces of Oaxaca cheese into smaller pieces.
Stir in a few pieces of cheese at a time and stir until melted, adding milk as needed to thin out the mixture.
Serve with tortilla chips and enjoy!
Alternatively, you can put all the ingredients except for the goetta in a slow cooker and this is an adorable one.
You know you want one.
Cook the mixture until the cheese is melted and add the goetta a few minutes before serving.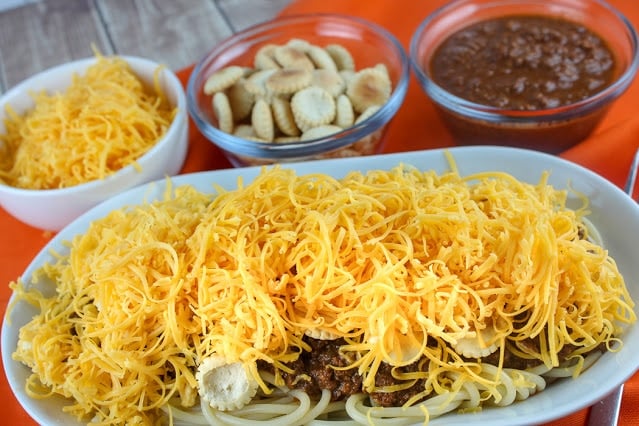 If you don't know The Food Hussy, you need to.
Heather Johnson is the face and force of nature behind the Food Hussy and she makes some amazing copycat recipes.
This happens to be one of them.
When I asked her if this recipe was more like Gold Star Chili or Skyline chili, she said it is in the middle, a little spicier than Skyline but not as spicy as Gold Star.
Make a batch and let me know what you think.
By the way, if you've never had Cincinnati Chili, it's almost always served on an oval plate like that and you turn the plate to eat from one end to the other, never from the middle.
Just making sure you look like a pro when you eat it for the first time.
If you try it at a restaurant, bibs are optional, but if you're a first timer, you should consider it, especially if you're wearing white.
I usually wear an apron when I eat it because it's incredibly yummy, but I've gotten the chili on more shirts than I care to admit.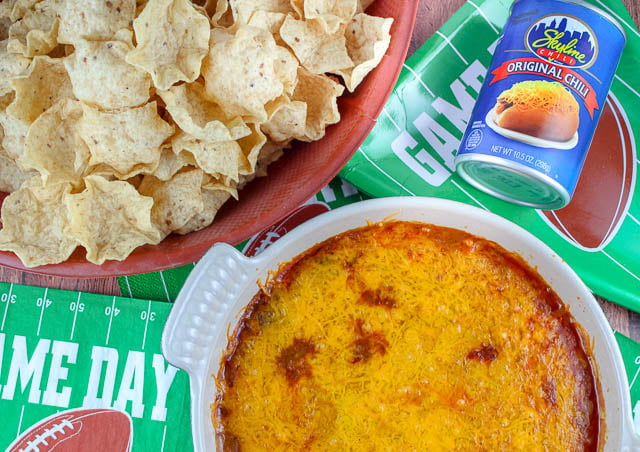 This might be the most iconic Cincinnati food appetizer ever.
Nearly every Super Bowl party has some version of this dish.
It's easy to make.
It's delicious, and you can make it your own by adding whatever you like to eat with your chili.
The Food Hussy's version, that you can get by clicking the photo above, is very similar to most family recipes.
The only thing that I would add is to serve it with a bottle of Tabasco sauce for those who want to spice it up like they do their traditional Skyline dishes.
Speaking of making this dish your own, that's what Karen at Soup Addict did with her Loaded Skyline Dip recipe.
While most people serve their dip with regular tortillas, Karen went a step further and used Frito's Scoops.
That's one idea I'll definitely keep in mind the next time I make this for a party.
Montgomery Inn is a Cincinnati tradition like no other.
Presidents and celebrities make special stops to get a taste of Montgomery Inn.
The Gregory family that runs Montgomery Inn are Cincinnati born and bred and are incredibly generous to the city.
With two restaurants, the original in the village of Montgomery, just north of Cincinnati, and the Boat House located on the Ohio River near downtown Cincinnati, Montgomery Inn serves amazing food from start to finish.
Their barbecue sauce is a regular condiment and sauce at many Cincinnati family functions.
For us, Christmas wouldn't be the same without Montgomery Inn meatballs.
For each pound of meatballs, we use 18 ounces of Montgomery Inn Sauce.
For our very large family, we use 5 pounds of meatballs and a boatload of sauce
We prefer to cook them in a slow cooker with slow cooker liners to make clean up easy.
Additional recipes you might like
Like what you see here?
Click here
for ways to support the Moving Toward Better mission.